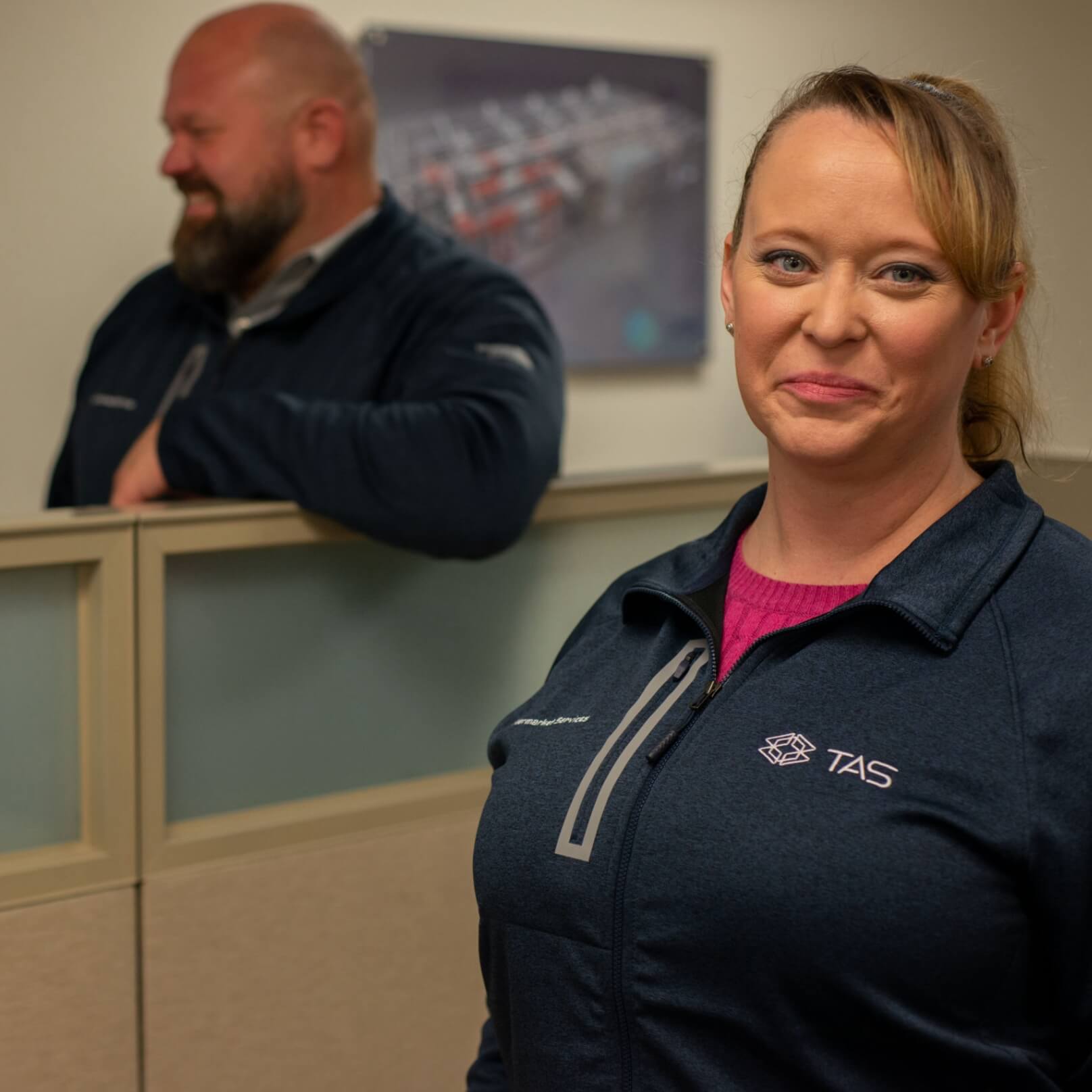 We have Over 100 Years of Combined Experience
Since the creation of TAS Aftermarket Service Department in 1999, we have focused on our customers' needs, primarily through commissioning and maintenance of TAS equipment. The TAS Service Department has over 100 years of combined TAS experience and over 300 years of HVAC experience. Over the last 15 years we have expanded our services from TAS System commissioning into a variety of mechanical, electrical, and PLC controls services to fit our customers one stop needs. Our field engineers are factory trained in multiple skill sets, many of them being able to perform all three services. Our diversity gives us the ability to send one field engineer to troubleshoot and repair any system in a TAS engineered package.
TAS Package Start-Up and Commissioning
TAS Package start up and commissioning is provided as an option to all new sales of TAS equipment. This service provides a qualified team of individuals that can properly start up and commission the complex systems provided by TAS Inc. The use of the TAS Service Department will ensure that your new system is commissioned to the highest quality standards.
TAS Package Installation Support
For those that wish to do their own installation, TAS can provide complimentary site management and oversight. TAS Service team can provide as little as one week of onsite installation clarification for complicated issues or as much as full time on-site assistance
On-Site Operator Training
TAS provides expert training so operators can operate your equipment efficiently and safely.
TAS Package Warranty Support
After the commissioning of a TAS package, we provide warranty support of the TAS provided equipment, ensuring that all requirements are of original OEM quality and the parts are replaced and tested to OEM standards.
Annual Maintenance
The objective of this program is to maintain plant equipment in optimal condition for the duration of service life. This is accomplished through a combination of on-site service visits and remote-access system inspections.
Parts Sales
We provide new and replacement parts for our systems and most other major HVA components. Contact us to provide parts and installation for all your individual HVAC systems.
Centrifugal Chiller Overhauls
Over the normal lifecycle of a centrifugal chiller, journal and thrust bearings may show signs of wear as early as the seventh year of operation. R-123 refrigerant will corrode rubber pieces such as gaskets and O-rings, as indicated by increasing purge pump-out time, beginning at year eight. A comprehensive overhaul will restore the chiller to a like-new condition, providing years of additional trouble-free service which helps maintain proper system efficiency and reduces downtime, thereby increasing system availability.
Plant Optimization
Our extensive experience with large centrifugal chiller plants and the most cutting-edge control strategies allow us to provide unparalleled optimization of your systems to maximize system energy efficiencies and minimize system downtime.
Controls Upgrades and Retrofits
Be it an existing TAS packaged central plant that has a legacy control system or a third-party system, TAS can bring our superior energy efficiency strategies to any chiller plant control system. Our base systems are highly reliable PLC-based platforms that provide superior performance to the usual building automation systems that perform chiller plant control and remote access. Our web-based support application allow remote system viewing with laptops, tablets and smartphones.
Remote Plant Monitoring
To augment your system operations team and improve reaction time to critical issues, TAS has a full suite of remote monitoring solutions to provide real time expert evaluation and troubleshooting of control system and plant operations. These solutions can be tailored to meet your specific security and access needs.
Send a Message
If you have questions about any of our products, contact us by phone or simply fill out the form below.
By submitting the information below, you agree to our Privacy Policy
Send a Message
If you have questions about any of our products, contact us by phone or simply fill out the form below.
By submitting the information below, you agree to our Privacy Policy